Description
FREE DELIVERY-FEE
Please order to receive only by no later than this Saturday
Originating from Kawanakajima: Kawanakajima is famous for production of Nagano's fine peach such as Kawanakajima Hakuto. Natsukko was created, breeded from Akatsuki and Kawanakajima Hakuto in 2000.
Big Flesh: The fruit weighs between 300 to 350 grams, making it relatively large. When freshly cut, the flesh of the fruit has a creamy white color. Natsukko peaches, cultivated in Nagano Prefecture, are exposed to abundant sunlight before harvest to develop their vibrant hue.
Sweet with Mild Acidity: The flesh is characterized by its creamy white color and pronounced sweetness, with a mild acidity. The flesh holds a firm texture, even when fully ripe, striking a balance between not becoming overly soft and maintaining a good shelf life.
High Brix: Having been through Optimal Sensor for brix inspection, Natsukko has average 14-17% Brix Level.

Processed in:
Nagano

Spec:
2kg (5-7 pieces) - SHU Grade 秀

Ingredients:
-

Preserve method:
To preserve the quality of the product, avoid direct sunlight / places with high heat and humidity. Once received, please keep cool dry place. Place in refrigerator 2 hours before consumption.

Note:
Images shown are for illustration purpose only. Actual products may vary.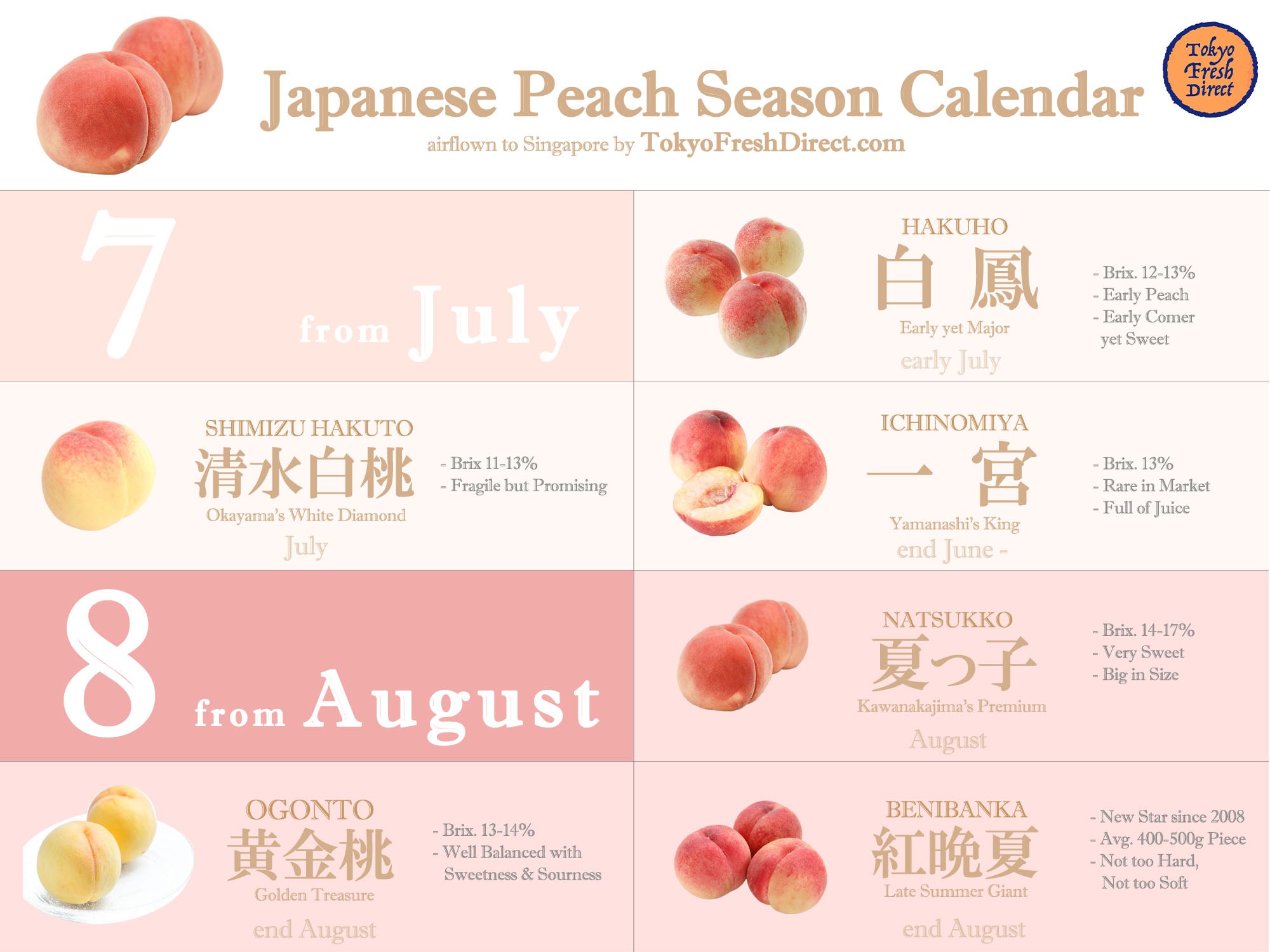 Guide to Japanese Peach
The peaches we eat today are mainly divided into two types: white peaches with white flesh and yellow peaches with yellow flesh. There are also varieties with unusual shapes and hairless varieties.
Read More