Description
Delivery is on 4th - 5th August Friday - Saturday ONLY. 
Description:

In Japan, more than 100 types of peach are grown and more than 120,000 tons of peach are shipped on a yearly basis. 
Yamanashi Ichinomiya is one of the most eminent brands in Japan; highest grade of all Yamanashi peach

Brix over 13%
Because Yamanashi is located in the basin called "Kofu Basin", the peach tree is exposed with good sunlight. This helps the peach to grow sweet and turn into beautiful pink peel.
Every piece of peach is sorted by Brix Sensor ("糖度センサー") at the sorting warehouse in order to guarantee the brix over 13%.
This gift box is called Takeda no Sato Kai Ichinomiya ("武田の里 甲斐一宮"), which brags the highest grade of all Ichinomiya Peach.
Produced / Processed in:
Yamanashi
Spec:
3kg (10-11 pieces) / Tokushu 特秀 (Highest Grade)
Ingredients:
-

How to cut:
1. Cut vertically in order to leave the seed part.
2. Remove the upper and lower part of the seed as below image:

 
How to preserve at home:
We recommend to consume in 1 - 2 days from receiving the item. 
In case you'd need to store for a week, put in a bag made of Polyethylene and store in a refrigerator. This is because peach naturally emits ethylene gas that can damage peach itself or other surrounding fresh foods in the refrigerator.
Please note peach is very fragile fruit;
In case any damage is found during our quality inspection, we will rearrange to deliver ones in good condition. In such case, the delivery timing may be pushed out.

In case the item you received is severely damaged, please message us and we will respond for refund!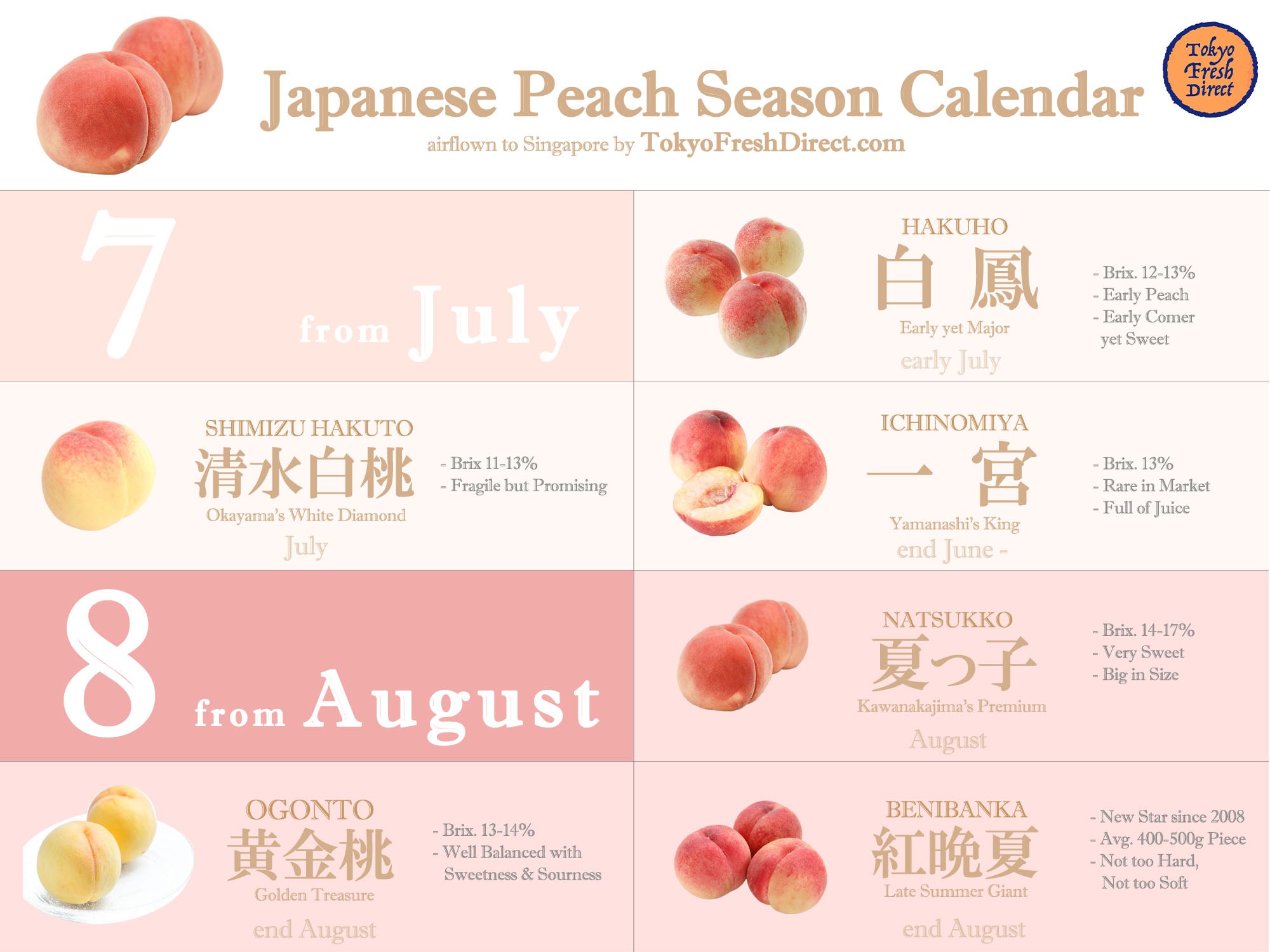 Guide to Japanese Peach
The peaches we eat today are mainly divided into two types: white peaches with white flesh and yellow peaches with yellow flesh. There are also varieties with unusual shapes and hairless varieties.
Read More